Boy group VAV took the spotlight at the Chicago stop of the group's "Meet & Live Tour in the U.S.!"
The boys toured the States for the first time in collaboration with Studio PAV, who has organized several U.S. tours for artists such as UP10TION and 24K.
They visited 4 U.S. cities, beginning in Jersey City, NJ on August 17, followed by Atlanta, GA on August 19, Dallas, TX on August 21, and Chicago, IL on August 23.
The Chicago show kicked off with a range of pre-show events, including a fansigning opportunity for VVIP ticket pass-holders. VAV fans, known as Vampz, were able to get their "Spotlight" albums personally autographed by the boys, allowing for unforgettable and precious interactions.
Zaydaa M. accounts of the fansigning, sharing that, "I was waiting in line and Ayno would wave at me and send hearts my way. I had an 'Ayno' shirt and he said my shirt was awesome."
Following the fansigning event was the highly-anticipated concert, which turned up the energy in the already excited Vampz!
The show began with an intro VCR, followed by one of the group's biggest hit tracks, "Spotlight." They then performed tracks including, "Dance with Me," "Flower (You)," "ABC (Middle of Night)," "Give It To Me," "She's Mine," and "Gorgeous."
There were also special stages. Ayno surprised fans with a special stage, where he showcased his amazing rap talents and smiled at the fans' loud cheers.
 VAV's rendition of "Havana," "The Middle," and "Uptown Funk," which pumped the audience with energy. During "Uptown Funk," members Lou and Ayno took Zaydaa M.'s phone and recorded themselves on it.
The boys shockingly revealed a secret stage for an unreleased track, which will be revealed through their comeback.
Between these exciting stages were talk segments, where the members would interact with their fans. VAV gave fans a special surprise when they revealed their abs and performed sexy dances.
During the Q&A game, the boys picked the sticky note that said for Ayno, Ace, and Baron to do the sexy dance. Ziu chanted, "5, 6, 7, 8" while the chosen ones took turns doing sexy dances. Ace even revealed his abs afterwards, causing the audience to erupt in screams.
VAV weren't the only ones who worked hard that night, though. Vampz, too, banded together to bring fan projects to life. One such project was a birthday banner for Ace, whose birthday is on August 28. Ace gratefully took the banner and wanted a photo of the fans holding them up.
Dedicated fans Sam and Andii designed the banners and shared their feelings about Ace acknowledging the project.
Andii states, "The members were talking about their favorite moment of the show/of tour and ACE TALKED ABOUT MY BANNER, "I am very thankful for the poster to say happy birthday to me, I want to take a picture of it with you guys", Sam handed it to him while we sang happy birthday. Then, Ziu noticed the Chinese on the back for Jacob and said "Jacob also is on it," so Sam handed another banner up there. Jacob was so surprised and Van had us sing again for the both of them. (He later posted it on INSTAGRAM!)"
Andii also elaborated on the Q&A game, mentioning how, "Ziu was asked 'which member makes you laugh the most' he said "I think St. Van, because he's funny as a joke but he doesn't make any jokes, he sometimes makes jokes but thats funny, its not that funny but it's funny," so he basically just roasted van on stage."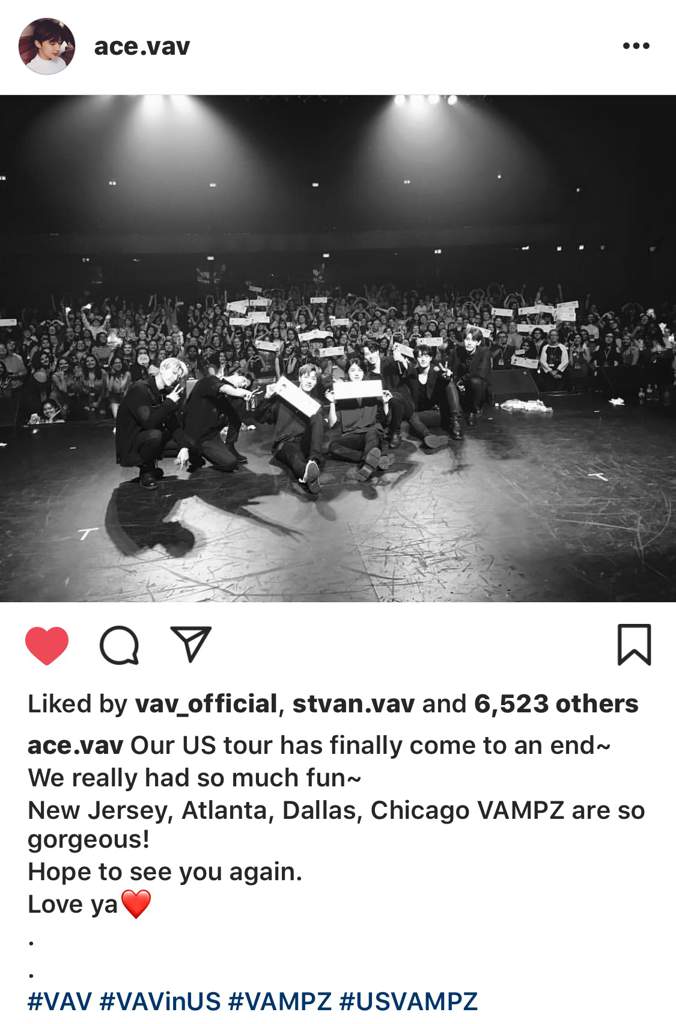 Read more about Andii's concert experience here!
Towards the end of the show, Vampz passionately chanted VAV's name, bringing them out for an encore stage and final goodbyes.
However, the eventful night was not yet over for many fans.
Following the show were the after-show fan events, including the Pick-A-Pose Snapshots, and Hi-Touch, where fans were given another opportunity to meet the boys.
Zaydaa M. was one lucky fan who had a precious interaction at the Snapshot event. Zaydaa states, "with Baron, I said I was tall and he said I was short. Then finally when I went with Lou and I asked him if he had a girlfriend he said, 'Now I do,' and grabbed my hand."
VAV had an amazing run with their first U.S. tour, showcasing their individual talents as well as their irresistible charms. They created beautiful and unforgettable memories with their lovely Vampz, who had a lot to say about the show afterwards.
Fan Chyenne T. claims the boys' fanservice was "just phenomenal. I remember calling out Jacob's name and blowing him a kiss, so then he proceeded to catch it and put it in his pocket."
According to Aleesa G., a fan who attended the Chicago stop, the show was "…the best experience in my life. There were Abs, aegyo, sexy dancing and complete and utter fan service. They are seriously fan service kings!!!" (See the rest of Aleesa's fanaccount here!)
What were your favorite memories from the tour?
Thanks again to VAV, A Team Entertainment, and Studio PAV for making these amazing shows possible! We hope to see the boys again very soon, and make sure to support their upcoming comeback!